Top 10 Coolest Things at the Skoll World Forum
#10. Jason Saul, from the Kellogg School of Management and author of The End of Fundraising, who is helping social entrepreneurs give up the grant addiction and trade value to corporations. Latest example? Helped Free the Children land multimillion dollar co-branding contract from Blackberry.
#9. Chloe Holderness, from Lex Mundi, crowdsourcing legal expertise for charities and social entrepreneurs around the world. Taking pro bono help away from a lawyer's golf buddy and giving it to people who need it the most.
#8. Ned Breslin, CEO of Water for People and winner of this years Skoll Award, and his FLOW technology which allows for real-time online monitoring of water projects in remote African locations. Transparency and efficiency defined.
#7. David Bonbright founder of Keystone and his simple yet powerful idea of applying customer service surveys to overseas development.
#6. The USAID staff from Raj Shah's office who are here to figure out how they can support social entrepreneurs in spite of the US government's byzantine contracting system. Walking the talk.
#5. Hero Rats founder, Buddhist monk, and Young Global Leader Bart Weetjens. Using trained rats to sniff out land mines wasn't brilliant enough. Now he is using them to detect TB.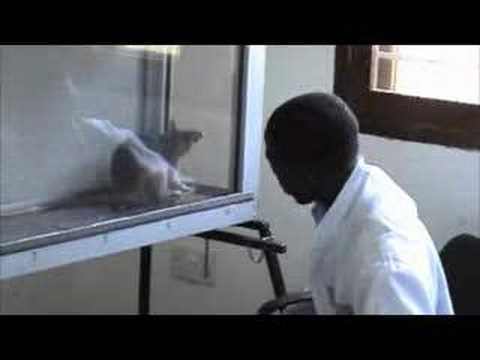 #4. The speech given Tuesday night by Rebecca Onie, Skoll Awardee and founder of Health Leads. Rebecca is trying to change the American health care system and  she knows she is probably going to fail. Her thank you to Jeff Skoll for betting that she won't left everyone cheering.
#3. The fact that One Acre Fund, founded by Andrew Youn and helping over 30,000 farmers increase their yield by 140%, has a "Roving Learner" who's focus is to share new ideas from other organizations.
#2. Jeff Skoll, for using his wealth to change the world.
And, the #1 coolest thing at the Skoll World Forum…..
#1. Archbishop Desmond Tutu who did a Bill Cosby impersonation while saying grace at dinner on Tuesday night.  Bill Cosby. During grace. And it was spot on.
Tags aid reform, Bill Cosby, Cool ideas, donors, impact, Jeff Skoll, new ideas, Skoll, Skoll World Forum, social entrepreneurs