The New York Office Gets Flashy
It was a regular morning. I opened my email and saw this from from CEO Scott Gilmore:
Subject line: "I want this." Email body: one link and the words "Make it happen."
The link's contents were undeniably cool. It was a blog from the news outlet Quartz, and it told the story of how their newsroom set up a light bulb to turn on anytime someone mentioned @quartznews on Twitter – with a little help from "If That Then This" (IFTTT), Belkin's WeMo Switch and a corresponding iPhone app.
And guess what? We made it happen. Building Markets now has its very own "lights-itself" lamp. Ours, however, is a bit more distinctive.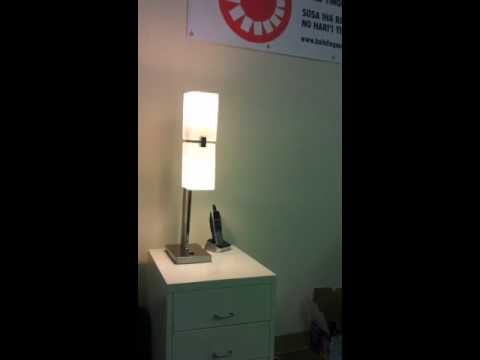 Anytime a buyer or a supplier in Liberia signs into the Liberia business portal our lamp flips on then off. The portal is where much of the Building Markets magic happens, as it hosts a comprehensive, searchable database of over 1,729 of Liberian-owned businesses. It also includes a list of tender opportunities from buyers like the Liberia Electricity Corporation, the UN Mission in Liberia, MERLIN and everyone in between. Business owners in Liberia can use this resource to find a variety of business opportunities all in one place. This is important for small and medium-sized businesses that don't have a lot of time to search for opportunities across multiple newspapers or web sites.
Liberia is four hours ahead of our New York office, where our high-tech lamp resides. It's lit mostly in the wee hours of the morning when no one is in the office, but it's still fun to hear the lamp click on and off occasionally throughout the day.
It could be better though. Ideally, we would have the lamp turn on anytime someone visits our portal, whether they are registered users or are just occasional browsers. Right now, the lamp lights up only when someone signs in to the portal. This is because IFTTT is limited to certain web sites and programs it can work with. The light bulb can't be linked to just any old Web site, which is what our portal is. Building Markets needed to get creative.
Because IFTTT does work with Gmail, we were able to have our portal Web site send an email every time a user logs into the system. This was the first step of the recipe: the "If That" portion. The next step was the easy part: lighting up the lamp. Another channel IFTTT works with is Belkin's WeMo switch, which allows users to control any electrical appliance through an iPhone app. The "Then This" part. And voila:
This whole experiment isn't exactly accurate, but maybe someday — with the expansion of our marketplace initiatives to other countries (more portal visitors!) and with a little ingenuity from IFTTT (hits, not logins) – we could have a regular strobe light disco ball flashing in our New York office. After all, isn't that what all motivated office employees want?
Tags Belkin, Belkin's WeMo, If That Then This, IFTTT, Liberia Business Portal, Quartz News